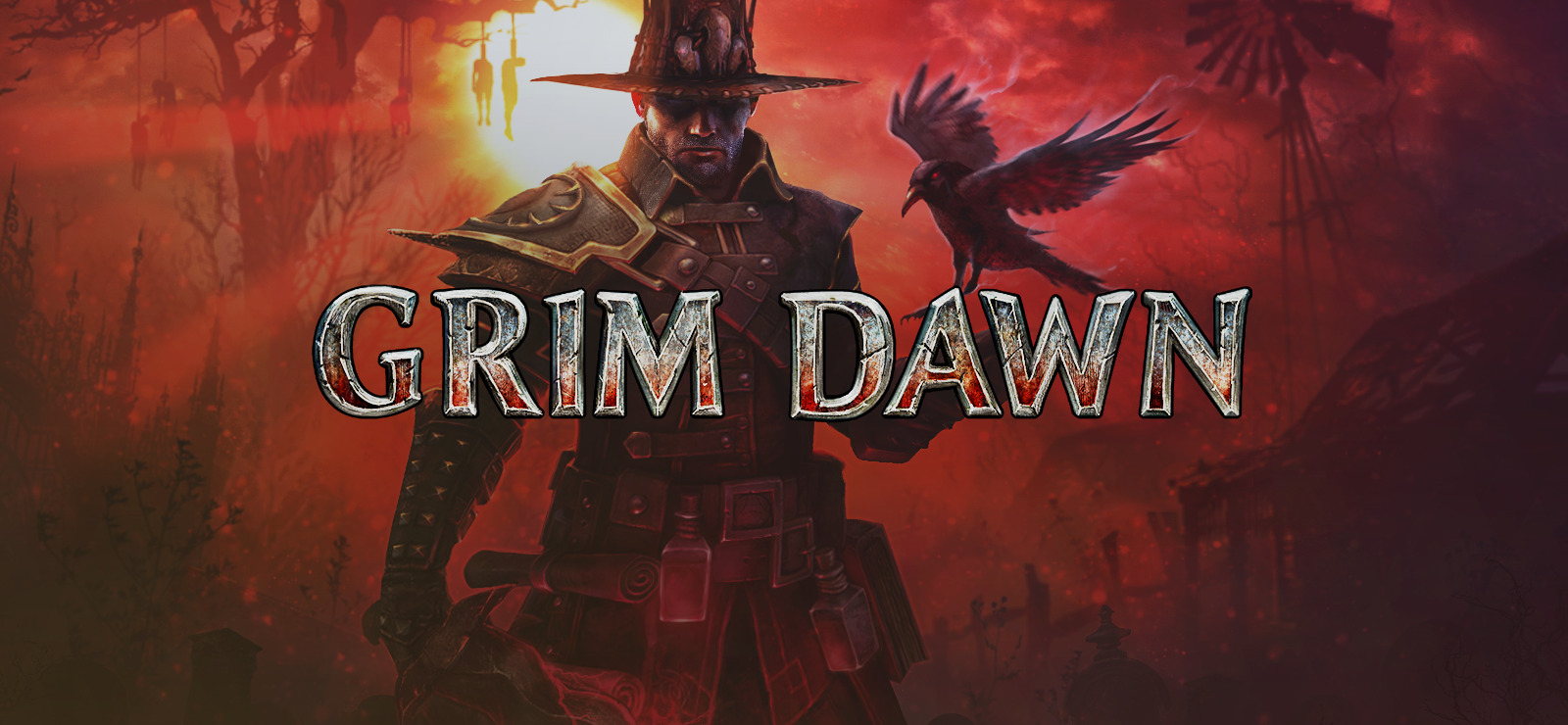 Grim Dawn + Crucible DLC + Loyalist Upgrade DLС + Ashes of Malmouth DLC
Genre:
Adventure - Role-playing - Fantasy
Works on:
Windows (7, 8, 10)
Languages:
Audio and text: English. Text only: Português do Brasil, 中文, český, Deutsch, español, français, Ελληνικά, italiano, 日本語, nederlands, русский
Features:
Single-Player - Multi-Player - Co-Op - Achievements - Controller Support - Cloud Saves - Overlay
Released:
February 25, 2016 / August 3, 2016 / December 22, 2016 / October 11, 2017
Size:
3.2 GB / 128 MB / 4 MB / 1.9 GB
Company:
Crate Entertainment / Crate Entertainment
Installer version:
v1.0.6.1_hotfix_1_(20927) + patch v1.0.6.1_hotfix_1_(20927)
Store page:
Grim Dawn
/
Crucible DLC
/
Loyalist DLC
/
Ashes of Malmouth DLC
About:
Enter an apocalyptic fantasy world where humanity is on the brink of extinction, iron is
valued above gold and trust is hard earned. This ARPG features complex character development,
hundreds of unique items, crafting and quests with choice & consequence.
●
Dual Class
- Combine any of six distinct classes with over 25 skills and modifiers per class. Base
classes include Soldier, Demolitionist, Occultist, Nightblade, Arcanist and Shaman.
●
Hundreds of Item Skills
- Augment your class build with a diverse array of over 250 unique skills
granted by items and equipment add-ons.
●
Collect hundreds of Items
- Common, magical, rare, epic and legendary classes of loot. Plus over
20,000 possible magical affix combinations and over 200 rare affixes.
●
Quests with Choice and Consequence
- You will face tough decisions that leave significant impacts
upon the world. Strangers on the road, desperate families and even entire villages may live or perish
based on your actions. Currently over 35 quests with 75+ lore notes to be collected.
●
Friendly and Enemy Factions
- Earn favor with human factions to unlock additional quest lines,
vendor discounts and special faction-based items and augments. Some neutral factions you can be
turned into allies but aiding one will make the enemy of another. Hostile factions will remember your
deeds and deepen their hatred of you, sending out large packs and elite heroes to hunt you down.
●
Devotion
, an additional layer of skill customization allows you to acquire bonuses and powerful
secondary effects for your class skills. These are unlocked from a giant constellation map with
points acquired by finding and restoring destroyed or corrupted shrines hidden throughout the
world.
●
Rebuild the World
- Help human enclaves survive and flourish by securing vital necessities,
rebuilding structures and rescuing survivors who can then lend their services to your cause.
●
4 Person Multiplayer
- Connect with Friends or make new allies in glorious multiplayer.
Multiplayer encounters will put your teamwork to the ultimate challenge.
●
Fast-paced Visceral Combat
- Enemy blood spatters, ragdoll physics and satisfying enemy death
effects. Smash in doors and fight house to house, leaving a path of demolished furniture in your wake.
●
Rotatable Camera
- If you choose to survey the full beauty of the world and always fight from
the most optimal angle. Levels are still designed so that players are not forced to rotate the camera;
it is purely optional.
●
Secrets and Perils Abound
- 200+ Enemy heroes and bosses, hand-configured with their own
unique arrays of deadly skills. 20+ secret areas hidden behind crumbling walls, hidden gaps and
mysterious locked doors. Explode obstacles or repair structures to open new paths.
●
Rogue-Like Dungeons
- Descend into special locked challenge dungeons that require a rare
crafted key, where enemy levels increase as you progress and player teleport is disabled. There is
no way out except to complete the dungeon or die trying.
●
Dynamic Weather
- The world is brought to life with region-specific climates and a variety of
weather effects. A sunny day can cloud over with mild rain showers that builds into a booming
thunderstorm. Variable wind gusts blow grass and affect objects like windmills.
●
Recipe Based Crafting
- Collect over 250 crafting recipes that allow you to combine salvaged
components into unique crafted items and then, later, use those basic crafted items with higher-
tiered recipes to complete items of amazing power.
●
Reclaim Skill Points
- The ability to pay to reclaim points alleviates the fear and frustration
of having to make early, uninformed skill choices that could permanently gimp a character.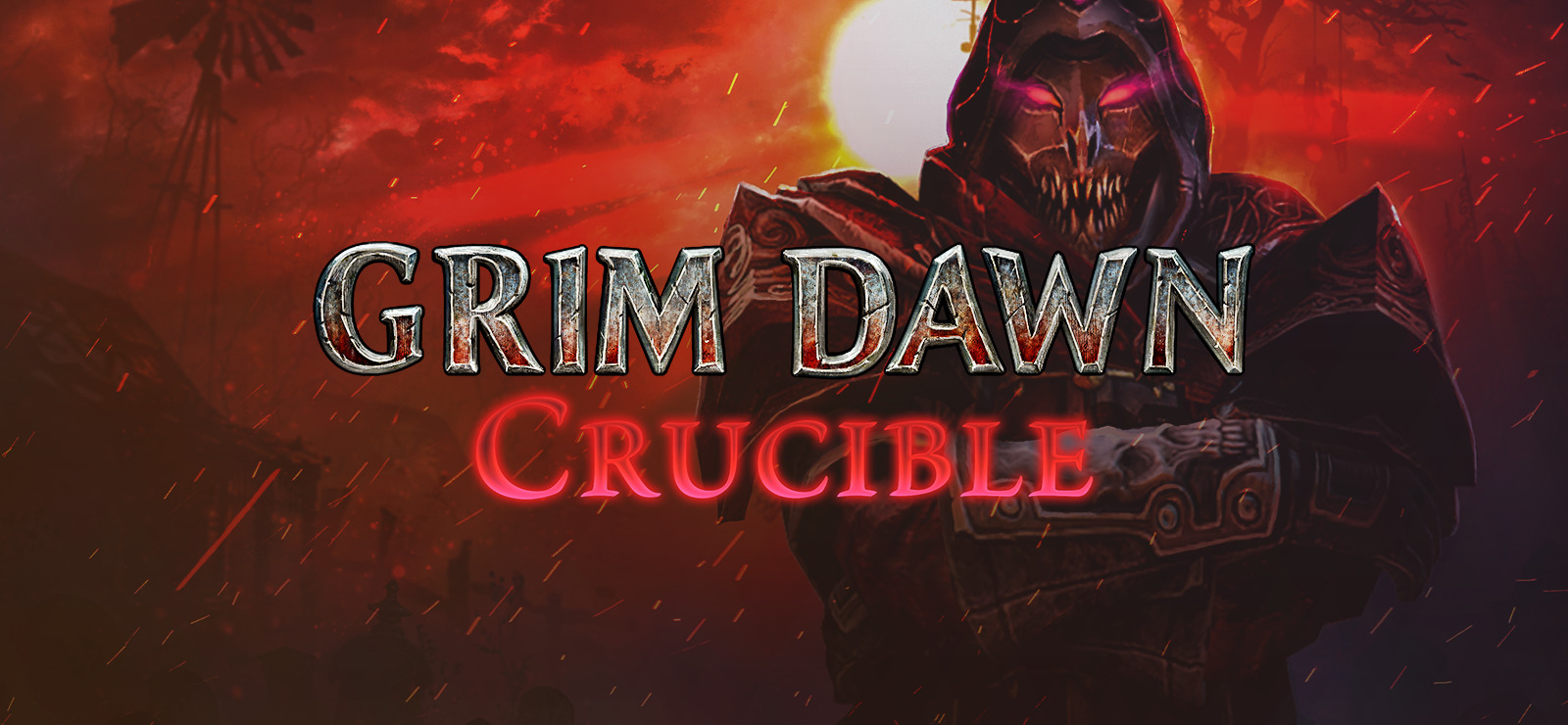 About:
The Crucible DLC introduces a challenging new arena gameplay mode to the Action RPG
Grim Dawn
. Enter the Crucible, a harsh battleground filled with waves of
Grim Dawn
's deadliest
fiends. There you will engage in magnificent combat for the amusement of the Crucible's
mysterious overlord, Lokarr. But he is not a cruel master: endure his trials and be rewarded with
vast wealth; fail, and know only his scorn.
●
Multiple Arenas
– Battle across four deadly arenas filled with
Grim Dawn
's most vicious beasts
and monstrosities. Each arena features a different layout with varied defensive positions.
●
Conquer 150 Unique Waves
– Wage tireless battle against 150 unique waves of Grim Dawn's monster
menagerie. The farther you go, the more challenging the combinations become, with the possibility
of encountering multiple bosses at once! Progress through the first 100 waves to unlock additional
difficulties, which present an even greater challenge but also more reward.
●
Vast Wealth Awaits
– The more enemies you defeat, the more treasure and Tributes await you at the
end. Cash out your reward and claim your prize, or push farther for even greater wealth; but know that
failure also means less treasure.
●
Earn the Favor of the Celestials
– Spend hard-earned Tributes to activate powerful arena-wide buffs
which empower you and your allies in battle against the Crucible's fiends.
●
Forge Powerful Defenses
– Spend Tributes and Iron Bits to bolster the arena with defenses that aid
you in battle. Upgrade them for even greater power!
●
Endure Cruel Mutators
– Deadly minions are just the beginning in the Crucible's arsenal. As you
progress through the event, randomized Mutators will become active, amplifying your foes (or you)
in one way while weakening them in another.
●
Personal Leaderboard
– Keep track of your performance in the Crucible with a personal leaderboard
that stores your scores based upon the monsters defeated, the game difficulty and a score multiplier
earned by defeating waves of enemies before the bonus timer expires.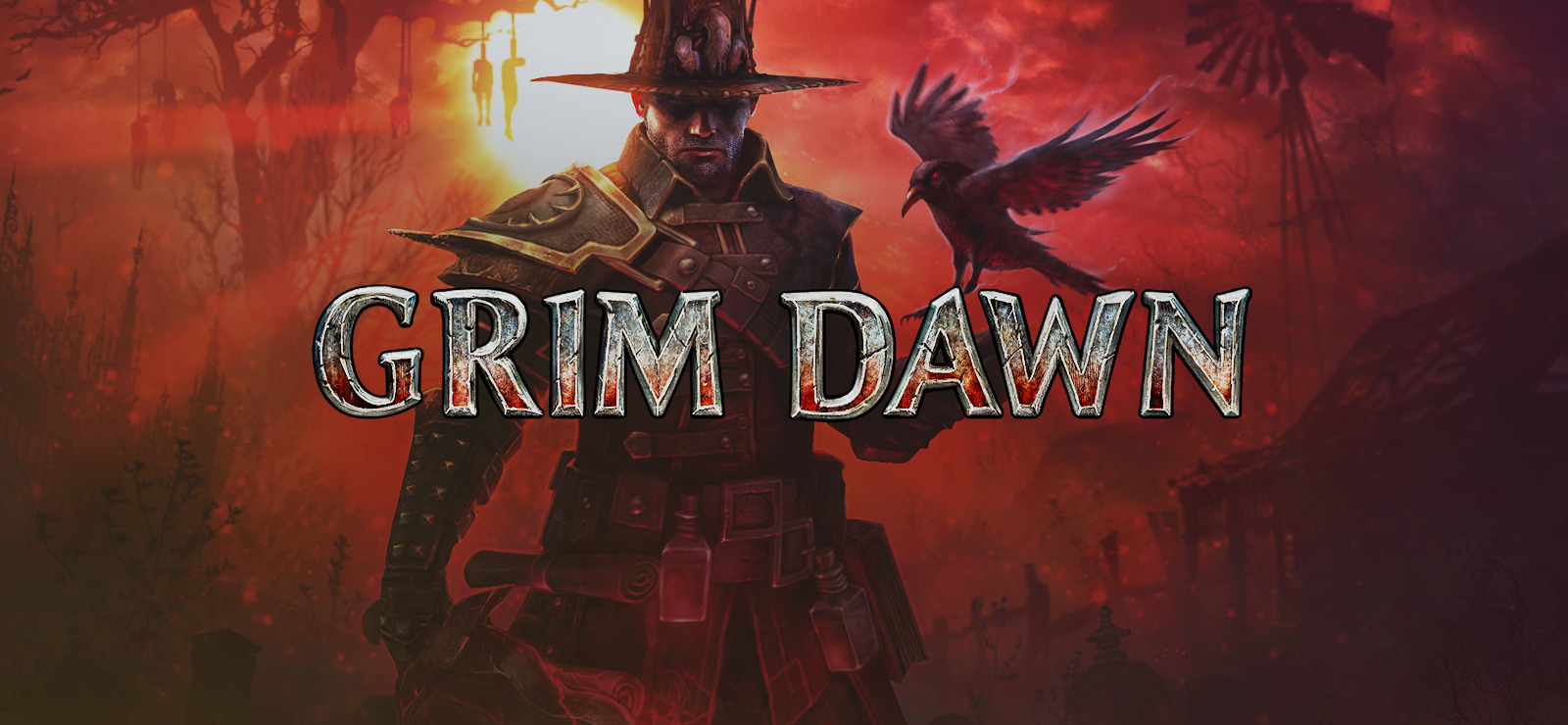 Loyalist Upgrade
About:
Whether you're an old fan or just purchasing Grim Dawn, this fun collection of historically
themed and novelty vanity items, allows you to outfit your character with a little extra flourish. The
gear included does not provide any gameplay stats or bonuses of its own, other than killer style, and
can be applied to other pieces of gear to change their appearance. Ever wish your badass legendary
helm looked like George Washington's hair? Now it can!
The Loyalist Upgrade includes:
⦁ Massively stylish George Washington powdered wig.
⦁ Helm of the Southern General
⦁ Admiral's Hat
⦁ Swashbuckler's Coat.
⦁ Enchanted Burrwitch Brew that never runs dry. Far from granting an unfair advantage, this vile
brew is certain to dull your combat abilities and may induce vomiting.
⦁ Will-O'-The-Wisp pet that acts as a light source in the dark.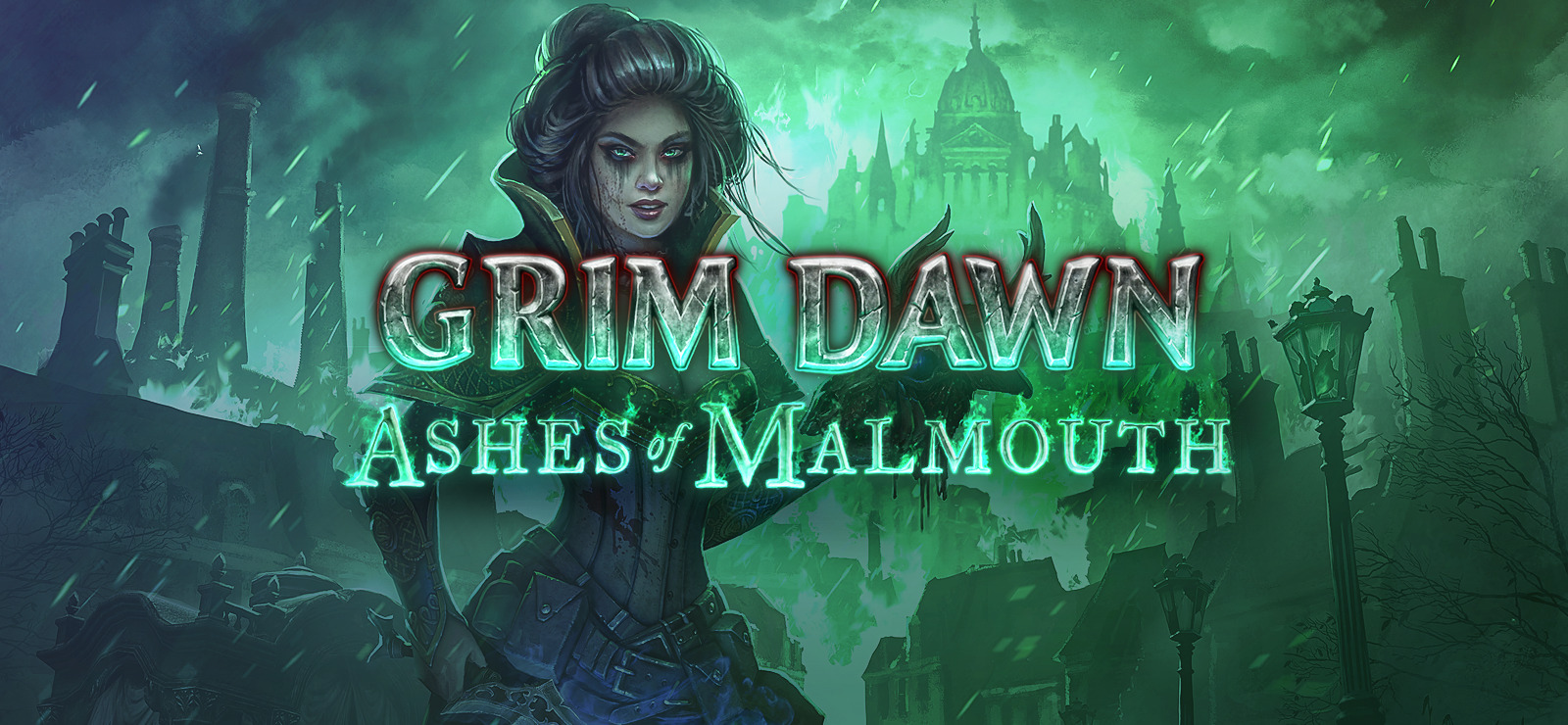 About:
About: Ashes of Malmouth picks up where Grim Dawn leaves off, expanding the world and
story with two new chapters in the epic struggle to free humankind from the horrors of the Aetherials.
Deep within the fallen city of Malmouth, the Shaper of Flesh crafts grotesque living weapons that could
deal a final blow to the human resistance. You must forge new alliances as you push forward through
deep forest, the void and into the city itself in a heroic effort to end the Aetherial terror. Venture into
dangerous new parts of the world as you discover unique items, empower your characters and make
difficult choices that have a lasting impact on the people of Cairn.
●
Level Cap Increased to 100
- Reach for ever greater power with an increased level cap of 100
and an increased Devotion cap of 55!
●
Two New Class Masteries
– Unleash your vengeance upon the enemies of humanity with two
new Masteries: the Inquisitor and the Necromancer, both of which can be combined with the base
game's Masteries, nearly doubling the possible combinations!
●
Two Story Chapters
- Confront the devious Aetherials and their twisted abominations in the
fallen city of Malmouth as you push forward alongside the Black Legion and Inquisitor Creed in two
epic Chapters!
●
Transform Your Appearance
– A brand-new Illusionist Service NPC enables you to transform
the appearance of your equipment and customize your ideal look! Draw upon every item in your
collection across all characters!
●
New Environments
- Explore new parts of Cairn to the north of Burrwitch and beyond!
Traverse the treacherous forest of Gloomwald and the murky Ugdenbog as you seek passage to the
fallen city of Malmouth.
●
Four Factions
- New Factions provide more opportunities to make allies…and enemies. Earn
their favor to unlock unique rewards, or become a nemesis to spawn powerful foes.
●
14 Constellations
- Unleash the might of the Arkovian Gods with 14 new Devotion
Constellations that open up even more combinations in Grim Dawn's massive constellation map.
●
Collect Hundreds of New Items
- Dozens of new Monster Infrequents and Hundreds of Epic
and Legendary items are waiting to be added to your collection! Combine them with the new Illusion
System to create a look unique to you!
●
Item Skill Modifiers
- Transmute and empower your Mastery skills using new modifiers found
exclusively on equipment.
●
New Nemesis and Super Bosses
- Tackle all-new vicious threats and earn their unique loot.
Discover Cairn's secrets to summon supremely powerful foes.
●
A New Rogue-Like Dungeon
- A fourth Rogue-Like dungeon is coming in a free update, shortly
after release, featuring the corrupting presence of the Aetherials and the Chthonians upon the beasts
of Cairn.
●
Expanded Stash
- Stow away precious treasure with a vastly expanded Personal Stash and an
additional Shared Stash Tab.
●
Reset Your Attributes and Mastery Bar
- Find a new type of potion that allows you reset your
Attribute Points. Speak to a Spirit Guide to unlearn the Mastery Bar down to one point.
Minimum system requirements - Windows:
Vista / 7 / 8 / 10
Processor: x86 compatible 2.3GHz or faster processor (Intel 2nd generation core i-series or equivalent)
Memory: 2 GB RAM
Graphics: 512MB NVIDIA GeForce 6800 series or ATI Radeon X800 series or better
DirectX: Version 9.0c
Storage: 5 GB available space
Sound Card: DirectX 9.0c compatible 16-bit sound card
Mouse, Keyboard
Additional Notes: 4GB of memory is required to host multiplayer games
Hidden Content
This board requires you to be registered and logged-in to view hidden content.