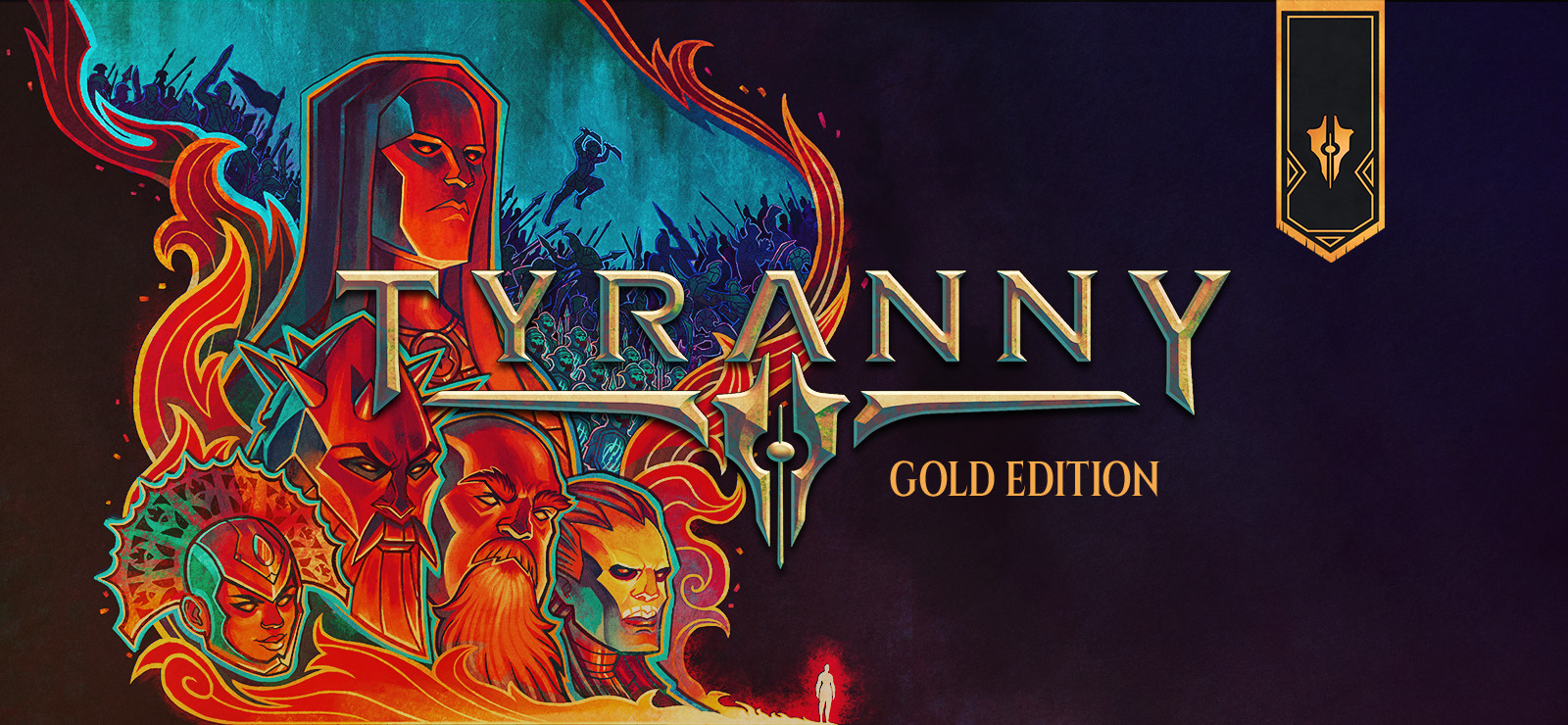 Tyranny - Gold Edition
Genre:
Role-playing - Adventure - Fantasy
Works on:
Windows (7, 8, 10)
Languages:
Audio and text: English. Text only: Deutsch, español, français, polski, русский
Features:
single-player - achievements
Released:
November 10, 2016 / April 4, 2017 (Portrait Pack) / June 13, 2017 (DLC) / September 7, 2017 (DLC)
Size:
6.98 GB + DLC
Company:
Obsidian Entertainment / Paradox Interactive
Installer version:
v1.2.1.0160_(25021)
Store page:
https://www.gog.com/game/tyranny_overlord_edition
/
https://www.gog.com/game/tyranny_portrait_pack
/
https://www.gog.com/game/tyranny_bastards_wound
About:
FATEBINDER'S SEAL & COMMANDER'S WILL
Pre-order bonus includes two in-game items:
Fatebinder's Seal
- The seal of a Fatebinder is used to stamp documents with Tunon's sigil. Though modest in
appearance, the seal is a representation of Kyros' legal approval. Merely holding it
impresses upon the wielder a sense of authority.
- Accessory
- Grants +2 Resolve
Commander's Will
- These boots have been passed down the ranks of Northern soldiers who distinguish themselves
as promising leaders.
- Leather Boots
- Trigger on Party Kill: Remove a hostile effect from each active party member (Only usable by
Player)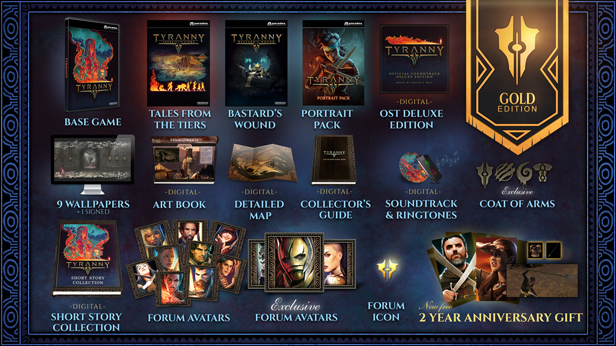 Tyranny - Gold Edition
includes the following:
- Base Game
- Ringtones:
three notification tones and one ringtone
- Overlord Edition Forum Icon
(for Paradox Plaza only)
- Forum Avatars
(for Paradox Plaza only)
- Exclusive Overlord Editions Forum Avatars
(for Paradox Plaza only)
- Digital Original Soundtrack
: The Tyranny soundtrack delivers 57 min of original music, including
a total of 18 tracks.
- Digital High-Resolution Game Map
In
Tyranny
, the grand war between good and evil is over – and the forces of evil, led by Kyros the
Overlord, have won. The Overlord's merciless armies dominate the face of the world, and its
denizens must find their new roles within the war-torn realm... even as discord begins to rumble
among the ranks of Kyros' most powerful Archons.
Players will experience the new world order under Overlord in a reactive role-playing game (RPG),
interacting with the populace as a powerful Fatebinder in the Overlord's forces -- roaming the lands
to inspire loyalty or fear as they bring control to the last holdouts of the Tiers.
●
Branching, unique stories in an original setting:
The battle between good and evil has
already taken place, and evil stands victorious
●
Choices matter – make world-altering decisions with far-reaching consequence:
As a
Fatebinder in the Overlord's army you wield a vast amount of power in the occupied lands of the
Tiers. Will you use that to inspire stability and loyalty, will you be feared, or will you seek your
own power?
●
Challenging, classic RPG combat:
Tactical real-time-with-pause combat with new party-driven
mechanics and modern presentation
●
A rich original setting:
Not just another "hero's journey" -- Tyranny turns the archetypal RPG
story on its head and allows players to explore a new take on good and evil
About:
Customize your Fatebinder with a selection of 20 new character portraits, providing new
ways to portray your character's look and feel. This added portrait pack offers more options to
players who wish to experience Tyranny with a Fatebinder that matches their personal vision.
● 20 new in-game Fatebinder portraits
● Artwork featuring male and female characters in a variety of outfits
● Unwavering loyalty to Kyros
About:
Please Note: The base-game, Tyranny, is required to play.
Tales from The Tiers
expands your journey through the war-torn world of award-winning role-playing
game
Tyranny
, with new travel map events, encounters, and side stories. Outwit hostile ambushes,
patronize or plunder traveling merchants, and use your skills to navigate the perils of a land plagued by
magical Edicts in a series of episodes that offer new insights, new items, and new challenges on your
journey. Whether you're new to
Tyranny
or playing an existing savegame,
Tales from The Tiers
lets you
take an even deeper dive into the saga of Tyranny.
Alongside
Tales from the Tiers
, Paradox Interactive is proud to announce a free update for all
Tyranny
owners, which includes more ways for players to explore the game's many events and outcomes.
Features of Tales from the Tiers:
●
New Travel Events
: Random encounters while traveling may lead to new quests, or new events focused
on companions and new NPCs
●
Expanded Story
: Learn more about the people and places of the Tiers with more than 40 vignettes to
encounter on your journey.
●
New items
: Find over a dozen new items and countless new ways to gain loyalty and fear with your
companions and the factions of Tyranny.
●
More Replay Options
: A free patch adds New-Game-Plus mode and character re-spec options for an
easier way to explore other plotlines.
About:
Please Note: The base-game, Tyranny, is required to play.
Experience a new chapter of Tyranny, the critically-acclaimed role-playing game (RPG), in
Bastard's
Wound
, a new expansion that builds upon the game's compelling story. Tyranny, an original RPG from
Obsidian Entertainment, invites the player to make their mark on a world conquered by evil, and the
Bastard's Wound expansion opens up a new area of the Tiers where refugees from the war-torn world
have established a haven in secret.
Delve deeper into the mysteries of Terratus as you bring Kyros' justice (or your own version of it) to
a new corner of the Tiers. In addition to the new region, Bastard's Wound gives you a chance to learn
more about your party in a trio of companion quests featuring Lantry, Verse, and Barik.
Bastard's Wound will feature:
●
A Refuge from Kyros:
Players will explore an all-new section of the world, centered around an
illegal settlement of those who have fled the devastation of the war. What sentence will you mete out
to the refugees?
●
Companion Quests:
Learn more about Verse, Barik, and Lantry in new quests and interactions
to earn their loyalty or enmity. What does Barik truly look like under his armor?
●
Loyalty and Service:
Bastard's Wound will arrive alongside a free update to Tyranny, including new
voice-acting, expanded content in the game's third act, and an all-new path to an unseen ending. What
fate awaits those who remain truly loyal to Kyros?
Hidden Content
This board requires you to be registered and logged-in to view hidden content.