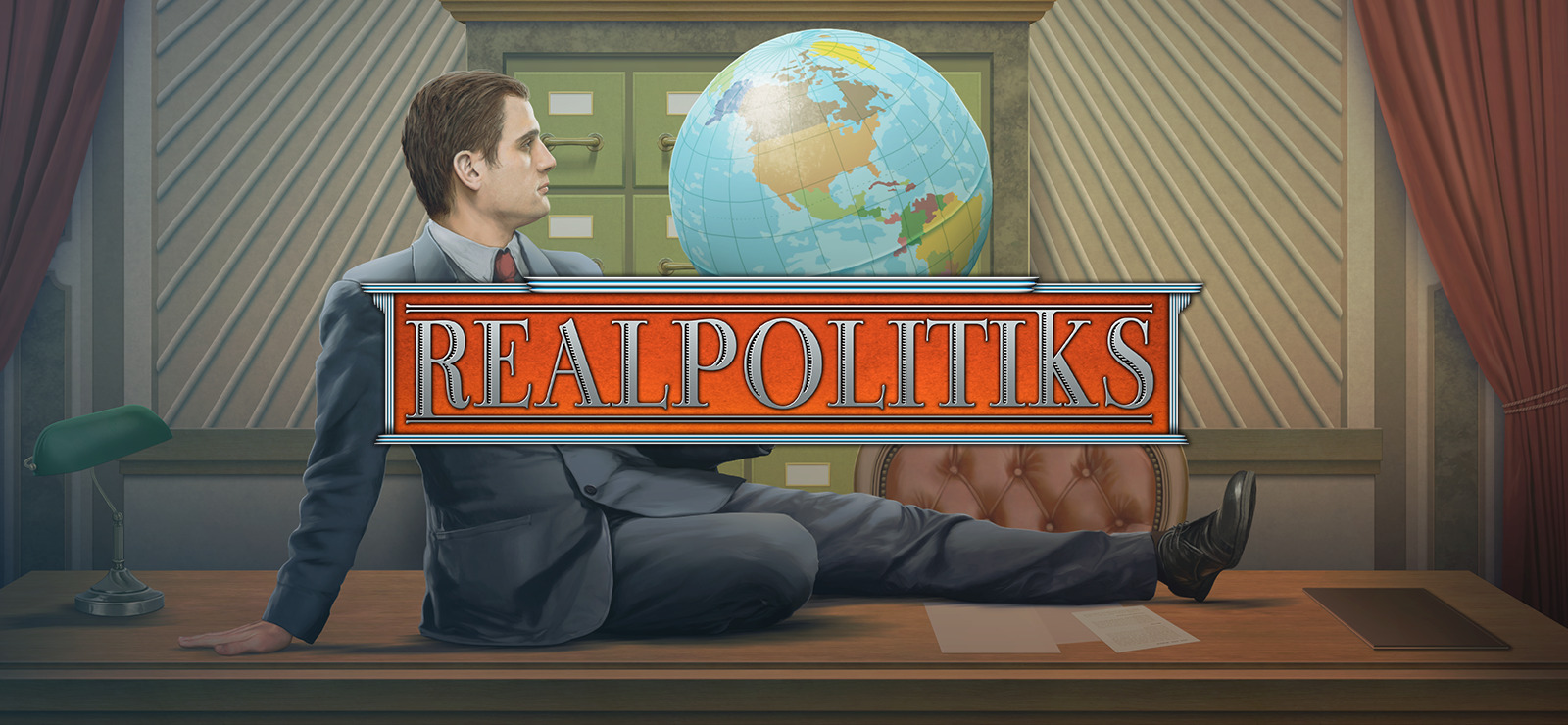 Realpolitiks
Genre:
Strategy - Simulation - Managerial
Works on:
Windows (7, 8, 10)
Languages:
Text only: Deutsch, English, español, français, italiano, polski, русский
Features:
single-player
Released:
February 16, 2017
Size:
237 MB
Company:
Jujubee S.A. / 1C Company
Installer version:
1.6.3_(19663)
Included goodies:
5 wallpapers + soundtrack (MP3) + 2 posters
Store page:
https://www.gog.com/game/realpolitiks
About:

Realpolitiks is a streamlined real-time grand strategy game that allows you to become the leader of any
contemporary nation. Dive deep into the issues of the modern world, with its current geopolitical
borders, using your country's power and economic strength to engage in military conflicts and
international affairs. Choose your own method of coping with other nations' interests, unexpected
events, global threats and various crises. Deal with the disintegration of the European Union, terrorism,
the aftermath of World War III and many other real and fictional scenarios.
Based on three main political systems (democracy, authoritarianism, totalitarianism), Realpolitiks allows
you to extend the influence of your country through various means, all in order to win the race for global
domination. Use your diplomatic skills, economic advantages, military power and the full freedom of
moral and ethical decision-making to become a world superpower and ensure the well-being of your
citizens.
Grow and develop your nation to the highest possible levels of economic power, technological
competitiveness and military supremacy in globally-ranked charts. The choice is yours as to whether you
become a valued member of the United Nations, or a nuclear tyrant, bullying all those around you.
Expand your territory any way you like with the whole-world sandbox gameplay of Realpolitiks, even
creating colonies out at sea. And if that's not enough, try spreading the seed of our civilization to outer
space...
● Lead any country in the world to global domination in various game scenarios.
● Shape your country's political system and determine its relations with other nations.
● Deal with internal and external affairs and face threats from natural disasters, terrorism, financial crises
and more.
● Make use of common political instruments in your international relations, including spy tactics and
espionage to directly influence other nations' internal affairs.
● Take the moral and ethical high road in your dealings with others, or not...
● High replay value ensured by a broad decision tree in all matters, as well as diverse mini-scenarios and
random events.
Realpolitiks - New Power DLC
Released:
March 15, 2018
Size:
46 MB
Store page:
https://www.gog.com/game/realpolitiks_new_power
About: New Power
injects fresh content and realism into the world of
Realpolitiks
. A mini-scenario
featuring an actual nuclear threat, Non-Governmental Organizations that try to influence politics and
new features for creating larger territorial units are all highlights of this DLC.
Mini-scenario
The world gazed in terror as yet another powerful shock wave spread through the Pacific Ocean. Despite
the usual denials from North Korea, international investigators have no doubt that it was an NK nuclear
test behind the disturbance. With each passing day, the dictatorship's moves are becoming bolder and
bolder. It seems only a matter of time before it unleashes the destructive power of the atom on anyone
who dares to stand against North Korea. South Korea and the USA are aware that the aces are no longer
in their hands and are getting ready for a preemptive strike. But will their citizens and allies allow them
to start what could result in a global nuclear war? And isn't it too late already?
Enter the conflict as one of the following countries and lead it to victory: USA, China, North Korea, Japan.
Non-Governmental Organizations
Experience the real forces that influence government decisions. Work in secret with the mafia, support
large corporations with subsidies and increased options for business growth, maintain good relations with
separatists, or bring more harmony to your country through religion. There are many ways of navigating a
nation's internal affairs and balancing them out through international relations, while keeping an eye on
the stats. Take on the challenge of all the additional interest groups that New Power adds to Realpolitiks.
These further include: Pacifists, Conspiracy nuts, and Communists
New options in international politics
Non-aggression pacts will enable peaceful coexistence with neighboring nations, while political
annexation offers another option for enlarging one's territory without the use of the military. But still,
everything comes at a price.
Hidden Content
This board requires you to be registered and logged-in to view hidden content.