Stars in Shadow + Legacies DLC
Genre:
Strategy - Turn-based - Sci-fi
Works on:
Windows (7, 8, 10)
Languages:
Audio and text: English
Features:
Single-Player - Achivements - Cloud Saves - Overlay
Released:
January 19, 2017
Size:
3 GB
Company:
Ashdar Games / Iceberg Interactive
Installer version:
37981_(022619)_(27670)
Store page:
https://www.gog.com/game/stars_in_shadow
About: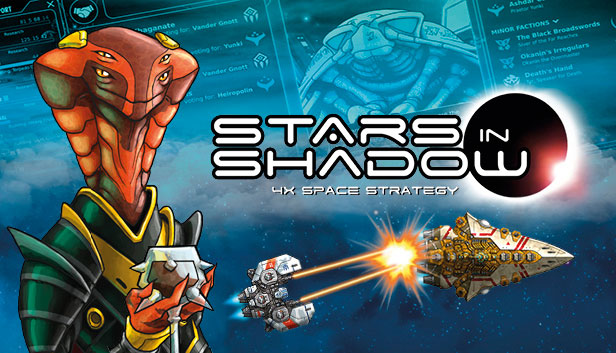 Stars in Shadow is a turn-based 4X science fiction strategy game. Explore the stars, settle distant worlds,
and build an interstellar empire. Recover ancient technologies and negotiate with alien leaders. Created
by a pair of passionate strategy gamers, Stars in Shadow features streamlined empire management,
sophisticated turn-based tactical combat, and detailed world building. "A worthy tribute to the classic
Master of Orion games of times past."
●
Epic Scope:
Starting at the dawn of interstellar travel, progress through four eras of technological advancement.
Discover the science of planetary terraforming, upgrade your infantry battalions to battle mechs, and
grow your fleet from a squadron of destroyers to an armada of planet-destroying Dread Stars.
●
Varied Factions:
7 Playable factions comprising six alien races. Each faction has different research strengths and
technology options. Forming alliances, conquering neighboring species, or discovering ancient artifacts
may open up additional avenues of research. Choose your race wisely as it impacts which worlds will
suit you, what trades or alliances may be offered, and whether or not your neighbors are inclined to
trust you.
●
Stylized Setting:
A distinctive comic-book art style and an original, detailed universe backstory draw you into an
immersive game world. Interact with a unique cast of alien characters, make friends and influence
people, or crush your enemies and see them driven before you.
●
Focused High-Level Strategy:
Build a vast and varied empire, taking advantage of the unique traits offered by different alien
populations and the worlds they inhabit. Experiments on a slave population might diminish your
popularity in the Galactic Council. A streamlined resource and planetary improvement model keeps
the game moving even when your empire grows large.
●
Deep Turn-Based Tactical Combat:
Face off against your opponents in complex 2D turn-based tactical battles. Counter your enemy's
missile barrage using point defense or interceptors, then close to energy weapon range! Stars in
Shadow's tactical engine includes several features rarely seen in turn based games. Multi-ship
commands keep even large fleet battles fast-paced, and smart unit behaviors allow tight control with
minimal micromanagement. Auto-resolve battles that are a foregone conclusion, while retaining the
ability to replay any engagement to see exactly what happened.
Released:
September 28, 2017
Size:
28 MB
Store page:
https://www.gog.com/game/stars_in_shadow_legacies
About:
It's been three thousand years after the Great War and the collapse of the hyperspace lanes.
The galaxy is reawakening, thanks to an unknown influence who has restored the warp lanes back into
operation. Who restored the warp lanes, and for what purpose?
Legacies introduces a new playable faction, the cyborg Tinkers. The Tinkers are a race of cyborgs who
worship Dzibix, an ancient mega machine located on their arid homeworld of the same name. Dzibix is
-- or was -- an automated factory built by one of the ancient civilizations of the Golden Age.
The Tinkers worship Dzibix as a machine god and as result it has grown to cover most of the planet and
has achieved at least minimal self-awareness. To appease their machine god the dutiful Tinkers have
converted themselves into cyborgs and remade their society as a cybernetic civilization.
Tinkers' ships have increased armor, self-repair capability, and special systems for handling missiles and
fighters. The Tinkers will have a custom home world and a full set of custom spaceships to build, and
will take special advantage of several new gameplay features.
Also joining the galaxy is new minor faction: the hyperspace-dwelling Arda Seed. The Arda Seed will
employ a number of new starship and station types, and make special use of several new gameplay
features.
The Arda Seed faction represents the next step in uncovering the story of the causes behind the Great
War, which will continue to be expanded upon in upcoming DLC.
● New playable faction: Tinkers
● New population type: cyborgs
● New planetary special: Planetary Debris Rings and Asteroid Bases
● Space Habitats and Re-deployable Mobile Stations
● New minor faction: Arda Seed
● New "Hyperspace Anomaly" locations
● Technology Boosts and Researchable Artifacts
● Herald encounters
● New technologies, weapons and encounters
Hidden Content
This board requires you to be registered and logged-in to view hidden content.