Dead in Vinland + x2 DLC
Genre:
Adventure - Simulation - Survival
Works on:
Windows (7, 8, 10)
Languages:
Text only: Deutsch, English, français
Features:
Single-player
Released:
April 12, 2018
Size:
666 MB
Company:
CCCP / Plug In Digital
Installer version:
1.3_(26701)
Store page:
https://www.gog.com/game/dead_in_vinland
About:
DEAD IN VINLAND is a survival/management game, mixed with RPG and adventure elements,
about a Viking family trying their best to survive on a mysterious island.
Exiled
on a faraway and unknown land, lead
Eirik
and his
family
on their quest to
survive
.
Manage their physical and mental health,
explore the island
,
organize your camp
and deal with other
human beings. Some will help you, and some will be less... friendly.
Unveil the esoteric mysteries of
Vinland
. They could save your life… or lead you to your demise.

KEY FEATURES
●
Deep survival management simulation
: find and gather resources, secure a supply of food, take care of
the mental and physical health of your characters, fight diseases and wounds, ration your water
supplies, endure the elements (storm, drought, rain…)

●
Challenging
: the game is turn-based so you have time to take the best decisions, but the challenge is
high! You'll have to adapt to the crisis the game throws at you, with your own reasoning.
●
3 modes of difficulty
: if you just want to enjoy the story, we added an easy mode and, for the crazy
lunatics, we added both an extreme difficulty and iron man mode, that even the developers of the
game can't beat!

●
Build your camp
: expand your shelter with 18 activity stations, each one with its own mechanics. Craft
more than 130 upgrades and dozens of items to give you precious bonuses. Choose well, you won't be
able to craft everything.

●
Manage a community
: 14 playable characters, each one with their own strengths, flaws and stories.
Influence how their relationships evolve with meaningful dialog choices, achieve one of the 7 possible
romances or kick annoying characters from your camp and recruit new ones. And some surprises!

●
Explore the island
: 150 areas to discover with hundreds of objects to interact with. Unveil the many
secrets of the island and its beautiful, hand-painted landscapes.

●
Don't just survive, settle
: you can hunt, harvest, fish… but you can also grow a garden and breed sheep!
Advanced camp stations with special mechanics.
●
Live your own adventure
: complete 70 non-linear quests to reach the end of the game. Depending on
your choices, learn about what happened to your characters after the end.

●
Animosity and tribute system
: be "welcomed" by the infamous tyrant Björn Headcleaver and his merry
band of robbers. Bend the knee and pay him weekly tributes, or rebel… and face the consequences.
●
Full RPG system
: 5 health states to care for, 20 skills to develop, more than 600 character traits, 100
items to collect, 30 diseases and 20 wounds to die from… Customize your characters: choose from 5
randomly generated special traits every time they level up.

●
Turn-based tactical combat
: quick and deadly 3 vs 3 battles against Björn's minions. 5 unique playable
character classes, each with its own set of fighting skills, and 5 passive classes.
●
HUGE content
: more than 150 000 words - twice the size of the first Harry Potter book - telling a
mature yet humorous story.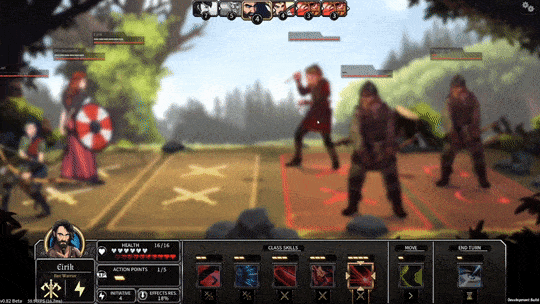 DEAD IN VINLAND is the second installment in the "Dead In…" universe, after DEAD IN BERMUDA. The two
games are standalones, but you'll learn a bit more about the secrets behind these strange islands and the
general background in each game of the series.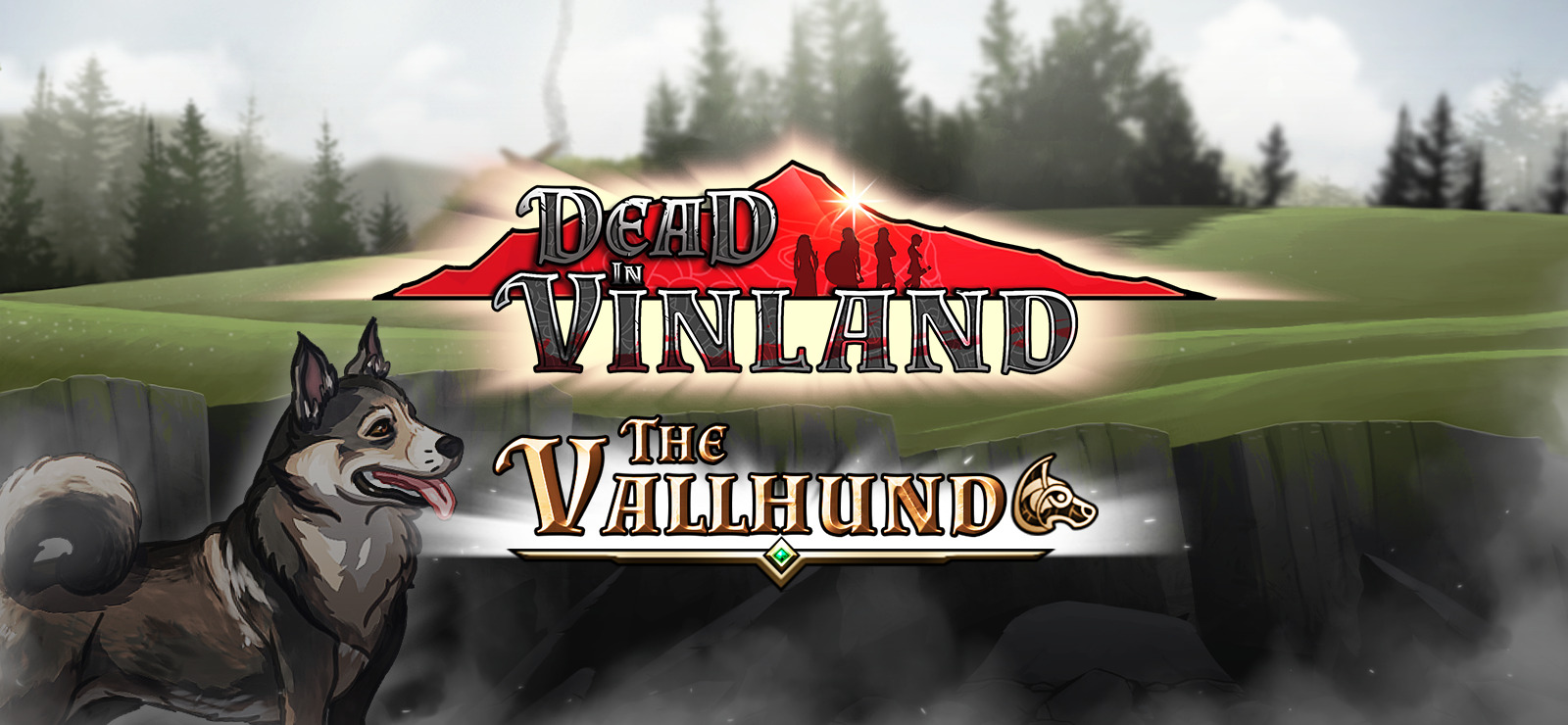 The Vallhund DLC
Released:
September 19, 2018
Size:
5 MB
Store page:
https://www.gog.com/game/dead_in_vinland_the_vallhund
About:
The Good Boy!
The Swedish Vallhund were guarding and herding dogs bred by the Vikings. You can now bring your
furry friend with you on your survival adventures in Dead In Vinland with this first DLC, appropriately
named The Vallhund.
During one of her usual strolls in the forest, looking for trouble, Kari finds this cute little doggie and
he won't stop following her! Recruit the Vallhund and it will become a valuable part of your camp!
Maybe. It's a very versatile companion, that will help your characters in many ways:
● Pay attention to its well-being: manage its affection and energy!
● Everyone works for the camp, even the dog! It will fetch useful resources, hunt some food, look for
● valuable items, and maybe even find some very rare treasures!
● A Good Boy! The dog can spend time with our survivors to lower their depression or heal their
wounds!
● Attack! Guard! Gain special combat buffs for all your characters!
● Kari's Doggie! Kari and her dog will develop a special bond that will give her a very useful trait for
exploration and combat.
● Train your dog: treat him well, and you'll be able to teach him new tricks in his personal upgrade
tree!
● A new side-story: Kari will have to take care of this cute little dog.
Will she manage to make him a fearsome beast like Garmr, the dog who slew Tyr during Ragnarök?
You will be able to recruit The Vallhund automatically after day 5 (compatible with old saves)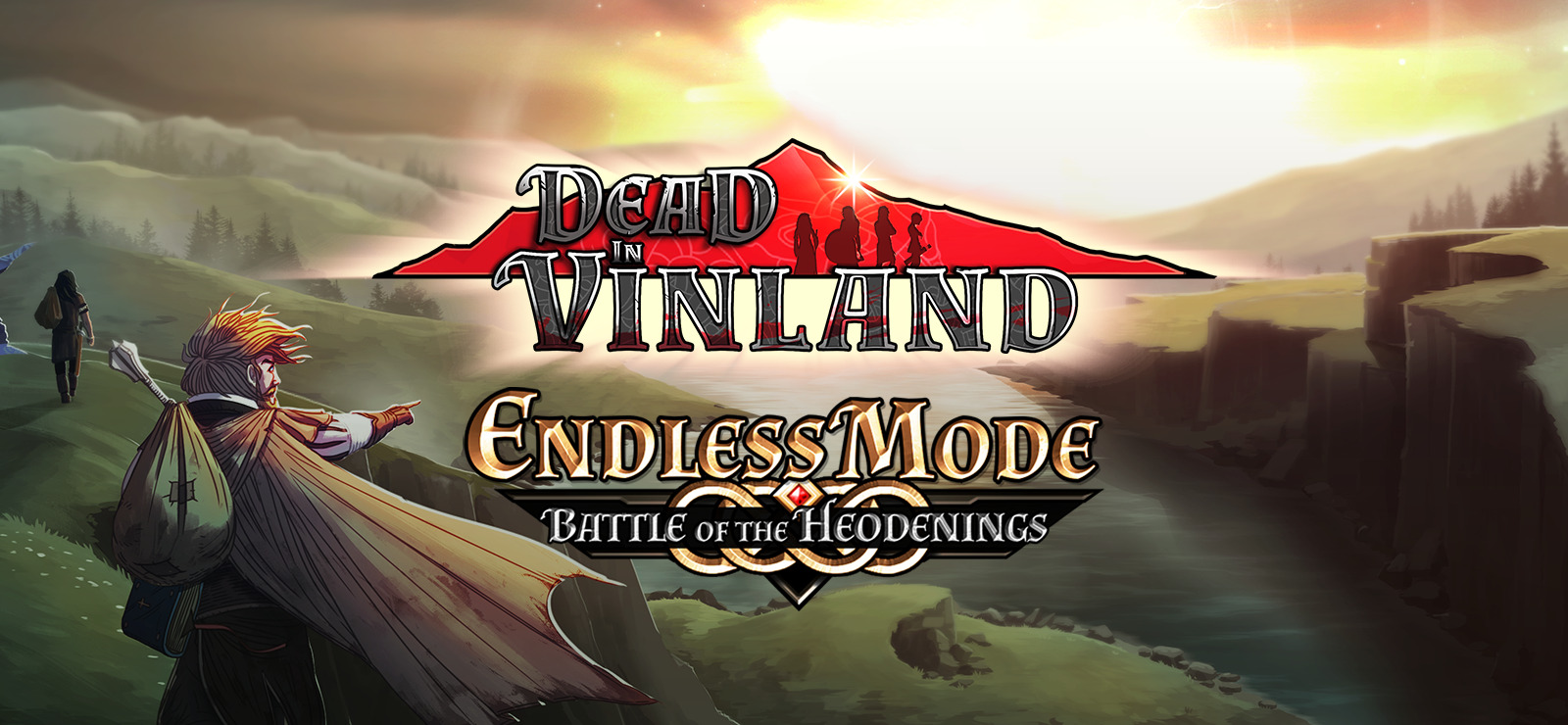 Endless Mode: Battle Of The Heodenings DLC
Released:
January 24, 2019
Size:
5 MB
Store page:
https://www.gog.com/game/dead_in_vinlan ... heodenings
About:
Named after the tale of an endless battle from Norse mythology, this second DLC for Dead In Vinland
unlocks a new Endless, sandboxy, survival mode!
This mode focuses on the survival aspects of the game, letting you customize your startingparty and
even their skills and Traits. And no pesky story! You'll just have to survive for as long as humanly
possible. Some of the new features in this mode:
● Endless tribute system: increasingly difficult tributes procedurally generated, and new tributes
types, which makes every new game a new challenge.
● Endless map: tiles are fully randomized and regenerated after some time has passed.
● Freely choose your four starting characters and recruit new ones at any time (if you have a free
slot in your camp).
● Character customization: spend resources to fully customize your characters' starting skills and
Traits before recruiting them! Make the perfect badass team!
● 3 new "merchants": trade precious resources for special items or bonuses.
● New encounters table: the enemies get stronger as time passes, and you get the chance to fight
the 5 bosses of the game during random encounters (yes, even Björn!).
● New starting skills and Traits generation options: play with fully randomized characters or play
with the same rules as Story mode.
● No more storyline, no more dialogs: you won't have to bother skipping through them, you only
need to focus on the management aspects of the game.
● Along with the free 1.3 patch which adds a handful of new options to customize the difficulty of
your playthroughs, this new game mode will add hours and hours of replayability to the base game!
Hidden Content
This board requires you to be registered and logged-in to view hidden content.