Warhammer 40,000: Gladius - Relics of War Deluxe Edition + DLCs
Genre:
Strategy - Turn-based - Sci-fi
Works on:
Windows (7, 8, 10)
Languages:
Audio and text: English. Text only: 中文, Deutsch, español, français, русский
Features:
Single-player
Released:
July 12, 2018
Company:
Proxy Studios / Slitherine Ltd.
Size:
1.08 GB
Installer version:
1.02.04_(28407)
Included goodies:
wallpapers + soundtrack + manual + Lords of Skull Unit
Store page:
official gog deluxe_edition link
N/A
... or try
web archive
About: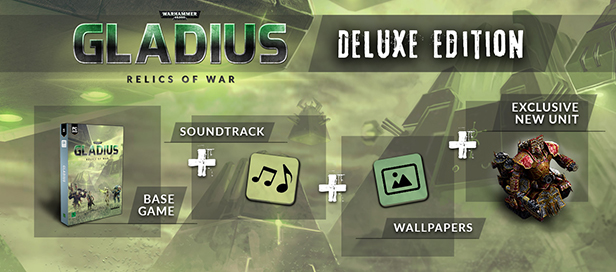 Gladius Prime was known to Imperial scholars as a planet of archeological interest. During its colonization
ancient relics were found, revealing hints of a shrouded past. But it was more than relics. Something
awakened, an unspeakable horror from an ancient past, and the citizens of Gladius found themselves
trapped in a terrible war for survival.
Gladius Prime was once a planet of peace. Now there is only war.
Warhammer 40,000: Gladius – Relics of War
brings you to a world of terror and violence. Four factions
will engage in a brutal war for dominance over the planet's resources.
In the first 4X turn-based strategy game set in Warhammer 40,000 you will lead one of four factions:
Astra Militarum, Space Marines, Orks and Necrons, each with their own unique gameplay, technological
tree, units and heroes.
Face a challenging AI or cooperate or compete with friends and strangers across the globe.

Play as one of four iconic Warhammer factions (Astra Militarum, Space Marines, Orks or Necrons), each
with their own unique playstyle and technology tree. Explore a randomly generated world filled with
special features and threatening wildlife that can crush your troop's morale. Secure control of powerful
ancient artefacts to grant you an edge against rival factions.

Construct cities, buildings and fortifications to expand your empire and produce an army to vanquish
your foes. Harvest resources and research new technologies to fuel and upgrade your machinery of war.

Progress through a different storyline with each faction as their destiny on Gladius Prime, a world tainted
by the warp, unfolds. In the end, when all the dust has settled, only one faction can emerge victorious.

Command a wide array of devastating weaponry, issue city edicts and deploy tactical operations. Recruit
hero units that possess distinct special abilities and can be equipped with items, ranging from advanced
grenades to mighty relics of the past. As they become more and more powerful with each rank, they turn
into true champions of your cause.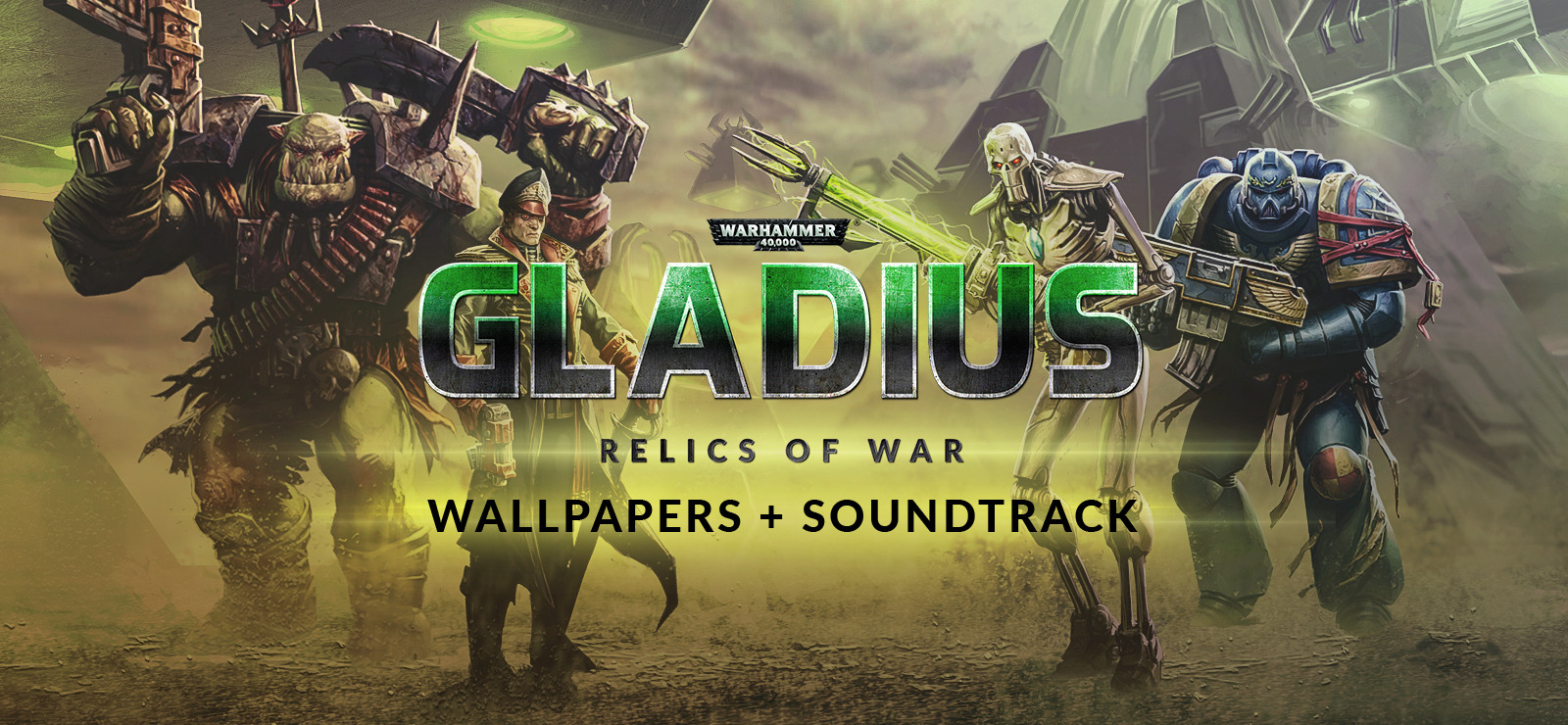 Soundtrack + Wallpapers DLC
Released:
July 12, 2018
Store page:
https://www.gog.com/game/warhammer_4000 ... wallpapers
About:
SOUNDTRACK
The beautiful Soundtrack composed by Dan Bewick (an experienced composer who also composed
the soundtrack for Warhammer 40,000: Armageddon and many other games) is a testament to the
ragged battlefields of the Warhammer 40,000 universe and the mighty armies waging eternal war…
Listen to 13 beautiful tracks, inspired by the glory of the Space Marines, the might of the Astra
Militarum, the brutality of the Orks and the esoterism of the Necrons.
WALLPAPERS
Seven beautiful wallpapers featuring illustrations drawn by the talented Kamila Szutenberg.
The wallpapers depict the rugged battlefields of Gladius Prime, and the four races waging eternal
war on it...
Lord of Skulls DLC
Released:
July 12, 2018
Size:
5 MB
Store page:
https://www.gog.com/game/warhammer_4000 ... _of_skulls
About:
This DLC adds the Lord of Skulls as a new neutral unit roaming the battlefields of Gladius Prime!
The Lord of Skulls is a massive behemoth, one of the strongest units in the game. It will be spawned
through an event and will warp in, ready to wreak havoc on anything it sees! Should you manage to
defeat it, despite its tremendous strength and firepower, you will receive an amazing reward...
Reinforcement Pack DLC
Released:
October 18, 2018
Size:
5 MB
Store page:
https://www.gog.com/game/warhammer_4000 ... ement_pack
About:
This is a DLC for
Warhammer 40,000: Gladius - Relics of War
and it requires the base game.
New units join the fight!
Reinforcements are deployed on the frontlines as war intensifies. The high commands of the four armies
fighting over the control of Gladius Prime send in squads that could tip the balance of power. But a new
insidious enemy lurks in the shadows: they have bid their time, and they are now ready to strike…
The Reinforcement Pack brings five new units to the battlefields of Gladius Prime!
One new unit per faction, plus one for neutrals, filling a new role in battle and increasing the strategical
options available to all commanders.
●
Tempestus Scions (Astra Militarum)
Militarum Tempestus Scions are often viewed with fear or resentment by the regular troops - nicknames
such as 'glory boys' and 'big toy soldiers' are common. Yet this rancour is nothing to the Scions themselves.
Trained in covert operations and rapid insertion strike-tactics, they go to battle confident that their every
deed is for the good of the Imperium itself.
●
Immortals (Necrons)
Even before biotransference, the Immortals were the elite soldiers of the Necrontyr and marched at the
forefront of their galactic conquests. Reborn into tireless metal bodies, they are now the shock troops of
each tomb world's armies. Where Necron Warriors are but fodder to be fed to the guns of the foe,
Immortals are far more valuable to their Overlords and will be deployed accordingly. Heavily armed and
armoured, they will stop at nothing in the completion of their masters' goals, and will often be found at
the heart of any crushing offensive or punitive counter-attack.
●
Flash Gitz (Orks)
Amongst the richest and most obnoxious of their warlike breed, Flash Gitz travel the galaxy engaging in
acts of outrageous piracy and wanton vandalism. They hire themselves out as mercenaries to Ork
warbands, basking in the envy of Boyz jealous of their flashy kit and prodigious dakka. Despite their
ostentation, Flash Gitz give a Warboss all the killpower he pays for. Completely lethal in gun battles,
boarding actions and the like, a mob of Gitz opening fire is nothing short of cataclysmic. A punishing hail
of energy bolts and bullets fills the air, the Flash Gitz' victims coming apart amid sprays of blood and
blossoms of flame before the Gitz stomp the life out of anyone left standing.
●
Land Raider (Space Marines)
The ground trembles and enemies flee in fear as the mighty Land Raider advances into battle. Massively
armoured and all but unstoppable, the noble war engine smashes through walls and grinds over wreckage
while drumming volley after volley of fire into the foe. Beams of incandescent energy slam into enemy
tanks, knifing through their armoured hulls and reducing them to blazing fireballs. Thudding bolt shells
punch into the flesh of the foe before detonating in shocking sprays of gore. The kill count climbs with
each passing moment as the Land Raider advances across the war zone, especially once the tank's
assault ramp slams down and its Adeptus Astartes passengers charge out to add to the carnage.
●
Neophyte Hybrids (Neutral)
Each cultist is spry and tough of build - weathered over a lifetime of hard labour, their physical strength
and reaction is bolstered by the alien genes lurking within. Neophyte Hybrids do not bear the outward
hallmarks of the Patriarch's sacred touch; as their brood leaders tell them, their blessings are of the soul
more than the body. These third and fourth generation hybrids can pass for human - some are even
cunning enough to infiltrate the Astra Militarum. When the cult goes on the attack, these Neophytes show
their true colours. Surging from sewers, catacombs and shadowy barracks, they swarm their enemies in
such number they can seize control of a planet's defences within the first hours of conquest.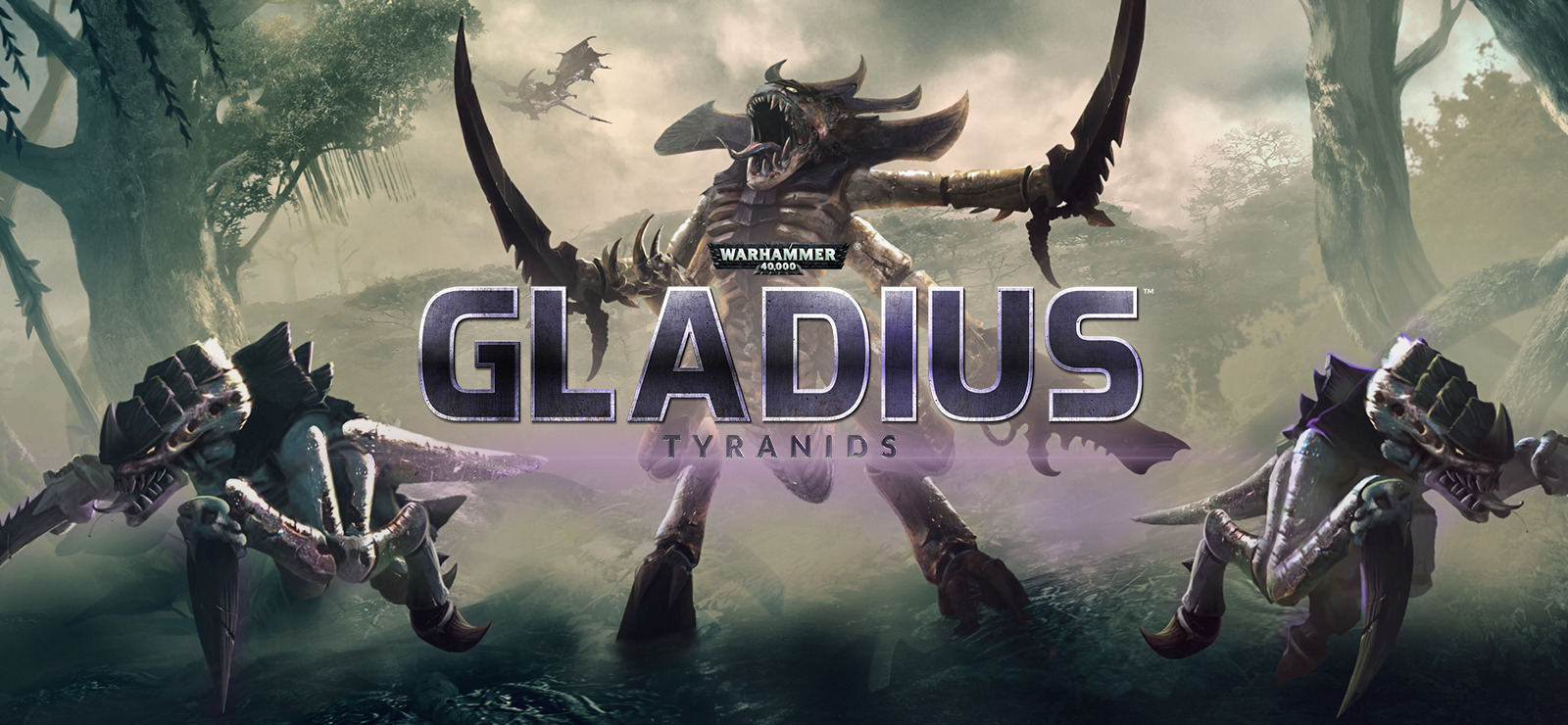 Tyranids DLC
Released:
January 15, 2019
Size:
6 MB
Store page:
https://www.gog.com/game/warhammer_4000 ... s_tyranids
About:
On Gladius Prime, where there were once cities and agriculture... now there is only war. Orks,
Necrons, Space Marines and the Astra Militarum vie for control of a dying world. But something
worse lurks in the shadows. Feral Tyranids now roam the planet's surface, escapees from an Imperial
research facility. All life on Gladius will shudder in fear.
For the Great Devourer comes.
Warhammer 40,000: Gladius - Tyranids introduces a new playable race, which joins the fight for Gladius
Prime! Thanks to their numerous new gameplay mechanics and features, they are a radically different
faction, unlike any other in the game. The distinctive traits of the Tyranids are represented in the way
they play. They are a ravenous, hungry swarm. They will consume Gladius Prime!

The Tyranid race travels the stars, systematically consuming anything that enables its rapid evolution
and reproduction... so it may consume even more. On Gladius, the Tyranid faction specialises in
reclaiming biomass from enemies, its own units and even by stripping tiles back down to the bedrock.

To the Tyranids, to stay still is to die. They consume and they move on. Even their "cities" are
disposable collections of megafauna, reabsorbed into the swarm when they have served their
purpose and local resources are exhausted

The Hive Mind is the gestalt consciousness of the Tyranid race, controlling its creations through a
pervasive psychic shadow generated by alpha creatures like Hive Tyrants and Warriors. But should its
troops fall outside of this control, they become wild beasts, running feral, attacking Tyranid and
enemy alike.

Tyranid units are monstrosities, adapted by the controlling Norn Queens by devouring the DNA of
their enemies. Many of their units - from the mighty Tervigons and Trygons to the man-sized
Hormagaunts and Termagants - can adapt to their current foes by gaining toxin sacs, acid blood,
adrenal glands or other inhuman creations.
Hidden Content
This board requires you to be registered and logged-in to view hidden content.