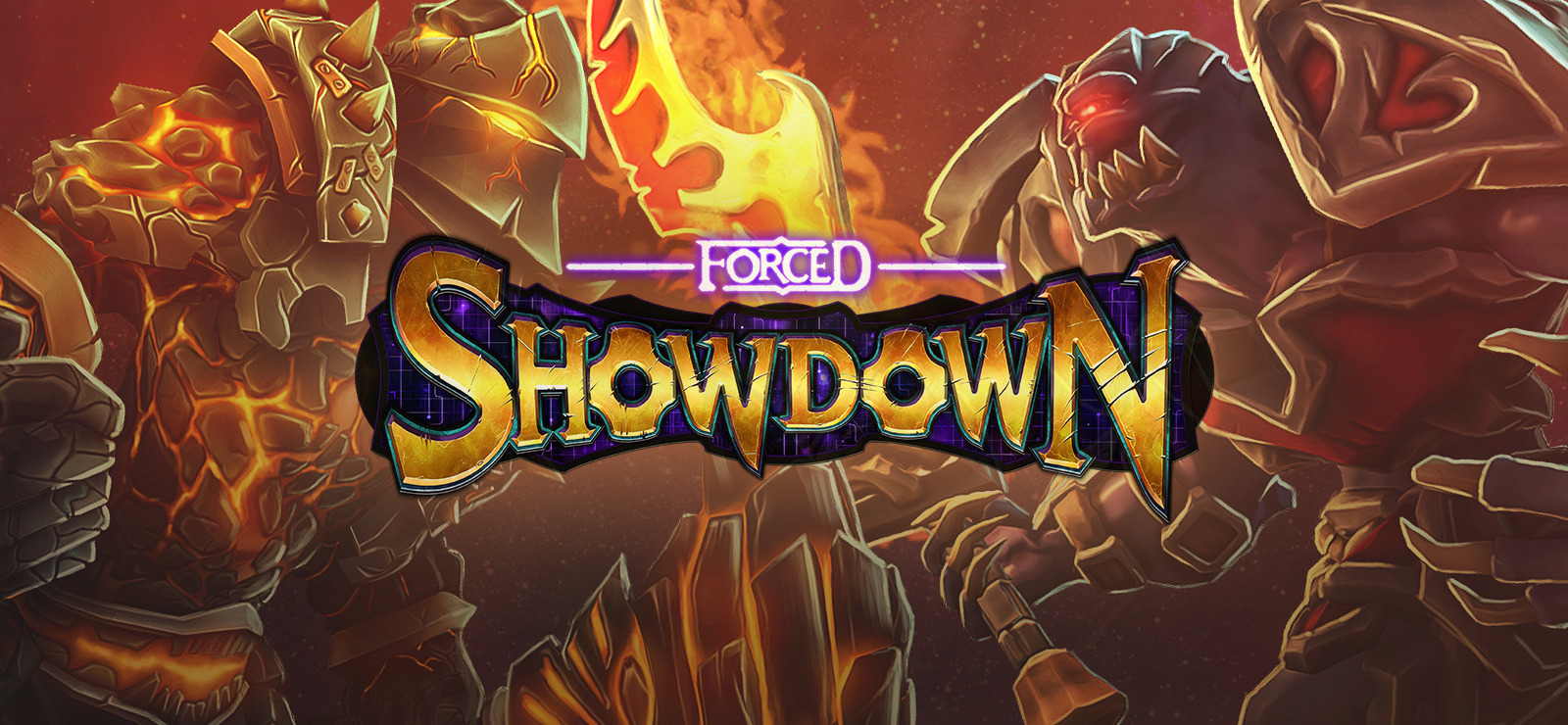 Forced Showdown GOG
Genre:
Action - Strategy - Sci-fi
Works on:
Windows (7, 8, 10)
Languages:
Audio and text: English. Text only: Deutsch, español, français, italiano, русский
Features:
Single-Player
Released:
March 29, 2016
Size:
1.3 GB
Company:
BetaDwarf / BetaDwarf
Installer version:
v46.642 (18731)
Included goodies:
6 avatars
Store page:
https://www.gog.com/game/forced_showdown
About:
Action and deckbuilding are combined in a Galactic Game Show - but questions gets replaced with deadly Gladiator Battles! You are the contestant - will you die or become a crowd favorite?
Some of the things you can do in the show:
● Fry a rat with a beam of pure light!
● Combine powers into strategic decks of gore galore!
● Compete with other contestants in daily challenges and seasons.
● Be entertained by a myriad of enemies, cards, arenas, traps, boons, titans, special rules, campaigns, companions, emblems, environments, and more!
● Complete my mysterious quests!
● Have fun … and die!
Released:
July 31, 2016
Size:
5 MB
Included goodies:
media pack + card art pack
Store page:
https://www.gog.com/game/forced_showdown_deluxe_content
About:
Make your game shiny and envelope yourself completely in the Forced Showdown experience with this deluxe pack!
Contained within the pack is:
• The Squire of Light Frost Armor Skin
• Three Deluxe Companion Skins - One for each companion
• A High Resolution Card Art Collection
• The Media Pack which holds:
- Awesome Posters
- Sweet Sweet Wallback In All Shapes and Sizes
- The Epic Soundtrack
- Official Game Logos
- Forced Showdown Character Avatar Pack
Released:
July 31, 2016
Size:
5 MB
Store page:
https://www.gog.com/game/forced_showdow ... _skin_pack
About:
Get a new skin for all five Contestants including the supreme skins. "Vacation Ravager" & "Mech Hammer" and the rare skin "Fire Squire".
Your friends will die of envy when they see you strut your stuff in this new Summer Collection from BetaDwarf!
One supreme Volco skin. (Mech Hammer)
This skin for Volco has had a full redo of all the mesh and textures for volco, turning him into a futuristic mech warrior of burning awesomeness.
One supreme Ravager skin. (Vacation Ravager)
Ever wanted to become a crazy alien Mexican Ravager? Well now you can!
One Rare Squire of Light skin. (Fire Squire)
The power of the sun became to much for the Squire and his armor has started to melt from the inside out! The fact that the cloth on his armor hasn't burned away is a testament to the tailors of his home world!
One Stormbringer skin.
Bring the thunder!! But do it in a new flashy red outfit!
One Settsu skin.
Take up the colors of the new Drone faction, with this white and black armor for the new Expansion Contestant. (This Settsu skin requires the Drone Invasion DLC to unlock, but all other skins in the pack do not)
Released:
July 31, 2016
Size:
5 MB
Store page:
https://www.gog.com/game/forced_showdown_drone_invasion
About:
The Drones have invaded! Expand the game with a new Campaign, Boss, World - tons of new Enemies, Cards, Modifiers, Quests and much more! Play as the brand new mech contestant Settsu and explore The Mentor's Maze featuring the mysterious R3-KT.
Forced Showdown
is a challenging bullet hell brawler! Each character is a unique experience: Choose a deck of unlockable cards to boost you in new ways every battle - "My whirlwind shoots fireballs!?". Battle hordes of brutal foes to become a superstar in C-SAR's ever-changing game show.
New Contestant - Settsu
Settsu is badass champion in a powerful mech suit. The pulse-action assault rifle has a 6-round magazine that charges up to a final rail beam. The rifle is also fitted with a plasma ball launcher that requires cooling. Shooting pulse ammunition into the plasma ball will result in a big explosion - a useful combination in the field. The suit is equipped with a jet pack that has limited flight capabilities. The landing impact can be used to destroy objects (or enemies) in a close proximity.
New World & Enemies - Drone Zone
The Drones are invading all the shows. Their high tech arenas and weaponry will make sure that the shows will be an entertaining hell of bullets.
New Campaign- The Mentor's Maze
Explore The Mentor's Maze and find hidden treasure, bonus points and portals. Try and reach the mysterious mentor R3-KT. Lives are on the line and modifiers are hidden, so be prepared when you try to become the superstar of the maze.
New Keyword - Dismantle
Dismantle cards will burn another card for a powerful effect, that is then multiplied by the dismantled card's cost. Clever deck-building and strategic planning will greatly increase the value of Dismantle.
New Cards
Over 20 new cards added for you to collect and add to your decks. Get ready to cast cards that use drone technology and upgrade the champions in new and spectacular ways.
● Playable Contestant Settsu is a former soldier joining the roster in a powerful mech suit. The suit is equipped with a Jetpack and a Pulse Rifle that uses a new ammo mechanic.
● 22 Cards added. Including cards with the new keyword Dismantle.
● A whole new Drone world is added. Time to go to space!
● The Mentor's Maze Show is a brand new way to play Forced Showdown.
● R3-KT is a new Boss that can be found in the maze. A fight that will challenge even the most skilled contestants.
● 10 Drone enemies each with unique attacks and abilities.
● 10 Boss Cards added. The titans of the show have grown a little... weirder.
● 10 Modifiers will spice things up and give you new tricks and treats.
● 18 Quests to complete in the Mentor's Maze.
● ... and more.
Minimum system requirements - Windows:
7 / 8 / 10
Processor: Intel Core i3, 2.4 Ghz or equivalent
Memory: 4 GB RAM
Graphics: Nvidia Geforce GT 240 or equivalent, minimum 512 MB of VRAM
DirectX: Version 10
Storage: 6 GB available space
Recommended system requirements - Windows:
7 / 8 / 10
Processor: Intel Core i5, 2.4 Ghz. or equivalent
Memory: 8 GB RAM
Graphics: NVIDIA GeForce GTX 570 or equivalent, minimum 1024 Mb of VRAM
DirectX: Version 10
Storage: 6 GB available space
Hidden Content
This board requires you to be registered and logged-in to view hidden content.